Map of Maricopa County Precinct Committemen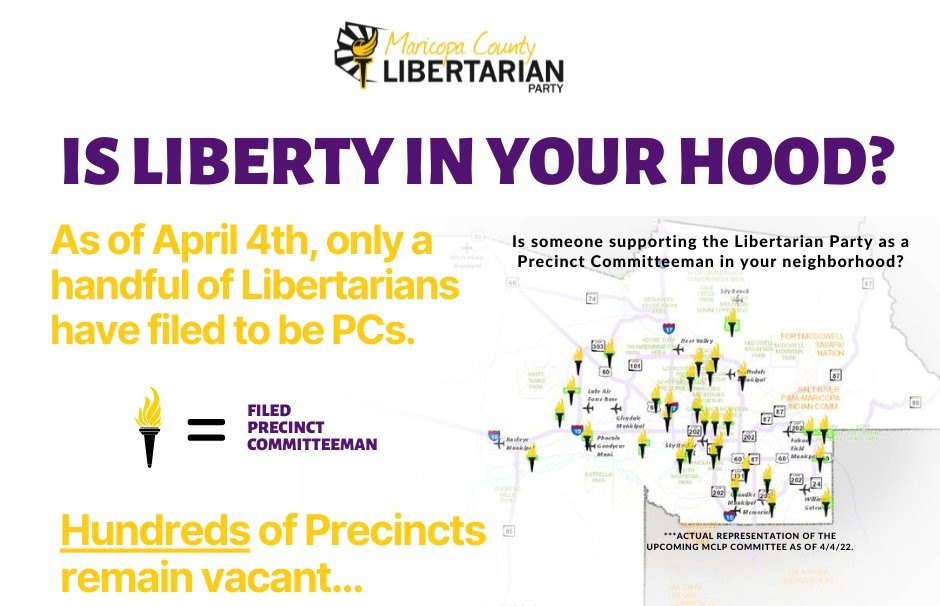 PROCESS TO BE APPOINTED A PCM (ONLY FOR VACANCIES)
Precinct Committee Members are elected officers within the Libertarian Party.
When there is a vacancy of a Precinct Committee Member in a given precinct, the county chairman can request the appointment of a qualified voter to the Maricopa County Board of Supervisors (BOS). 
The BOS meets regularly, so opportunities to be appointed happen often. 
WHAT IS REQUIRED TO BE APPOINTED:
A registered voter in Maricopa County.
The Precinct you live in must have a vacancy.
You should want to help grow the Libertarian Party, help educate the public on Libertarian philosophy and candidates, help people register with the Libertarian Party, and help Libertarian Party candidates.
What Does a Precinct Committee Member Do?
What Arizona State Law Says
A.R.S.§16-822. Precinct committeemen; eligibility; vacancy; duties; term
Section A: Any member of a recognized political party who is a registered voter in the precinct is eligible to seek the office of precinct committeeman of that party in that precinct.

Section E. The minimum duties of a precinct committeeman shall be to assist the precinct committeeman's political party in voter registration and to assist the voters of that political party to vote on election days. Additional duties shall be as provided for in the state committee bylaws of the precinct committeeman's political party.
If you meet these qualifications, please complete the following steps:
Step 2: Send 100% completed form to the MCLP Board (pcm@lpmaricopa.org) to review. The Chairman will then provide to the BOS for approval of appointment.
All fields in form MUST be completed.
*** To find your Precinct Name and Number, search for the address you are registered to vote at on the District Locator page ***
PROCESS TO BE ELECTED A PCM
Participate in the decision-making process in the Party.
Vote for the leadership of the County Party.
Gain experience or greater responsibility within the Party in the future.
Grow the Grassroots of the Party by participating on the local level.
Educate voters in your precinct about the Libertarian Party, its candidates, and issues.

 
2022 Election Cycle Is Closed

Learn more on the Maricopa County Elections Department website.
Step 3: Starting March 5, 2022, drop off the completed Nomination Paper and Nomination Signature Sheet at the MCTEC Office's 24-hour secure drop box in the parking lot at 510 S 3rd Ave, in Phoenix. County Elections Staff will check the drop box until the filing deadline on April 18, 2022 at 5:00 p.m.
Drop off filled Nomination Petition and Paper to the County Recorder
Maricopa County Recorder
111 S 3rd Ave
Phoenix AZ 85003
If you are interested in running for office, we'll support you.