Everything you need to know about the November Jurisdictional Election
More than half of Maricopa County voters have an election in November 2021.
From school district bonds and overrides to city measures, 25 Maricopa County jurisdictions are participating in the November 2, 2021 election.
Find the list of participating jurisdictions here. Check to see if you're eligible at BeBallotReady.Vote.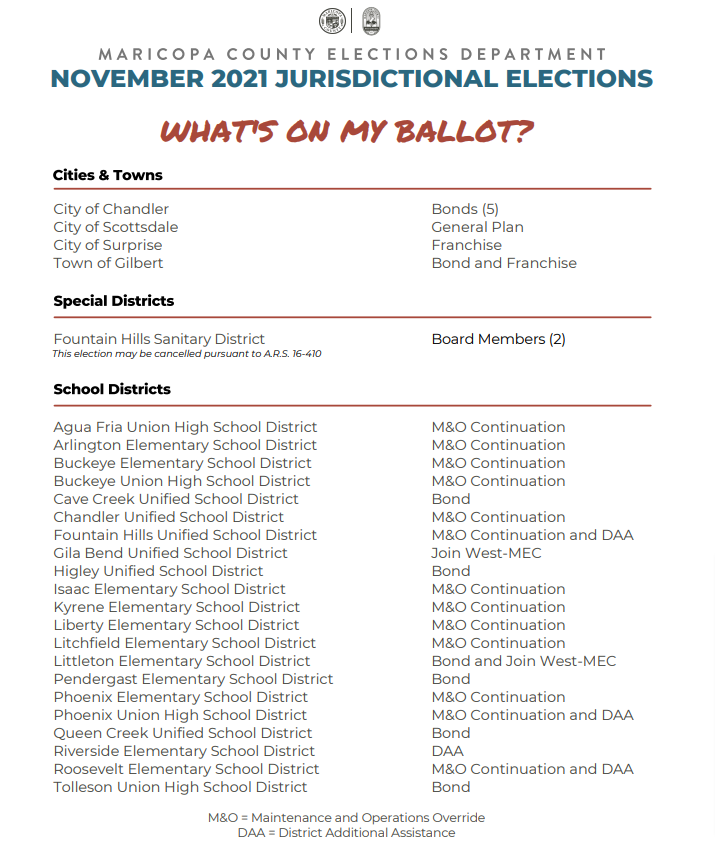 EVERYTHING YOU NEED TO KNOW
It is 100% Mail-in. Even if you are not on the early voter list, you will still receive a mail-in ballot.

In this election, there are 1.39 million qualified voters.

Nearly 4,000 military and overseas voters will receive their ballot by mail, email, fax. And will return their ballot by mail, fax, or a secure portal upload.
Large print ballots and braille ballots are available. Bi-partisan teams are also available to facilitate voting for ill and disabled voters. For assistance, email the Special Elections Board at SEB@risc.maricopa.gov.
In-person voting will be available, but there will be no tabulators at the voting centers. Since this election is 100% mail-in, you will confirm your identification at the voting center, a ballot for your jurisdiction will be printed on-demand. Once you have marked the ballot you will put it in an envelope and sign and drop it off in the secure box.
All ballots will be processed in the following manner: 
Signature Verification:
100% of the signatures on envelopes will be verified by Maricopa County Elections. 

All signatures are checked against a known signature on the official voter registration file and past affidavit signatures.
Verifying the voter & Comparing Signatures 
If there is a questionable signature, Elections staff will make meaningful attempts to contact the voter to address any issues. The deadline for questionable signatures is November 5th. 

If a voter doesn't sign their envelope, they will be contacted and have until Election Day at 7:00 pm to provide a signature.
The voter must provide a signature on the affidavit envelope or vote in person
Ballot Processing:
After confirming signatures with the voter's identity, the mail-in ballots continue to the Ballot Processing phase. 

This stage is where a team of bi-partisan boards separate the ballot from the affidavit envelope. Unfold the ballot and prepare batches for tabulation. They can also identify any damaged ballots that may need to be duplicated. All activities are documented.
Once they are completed being processed, they continue to the Ballot Tabulation Center (BTC) to be scanned through the tabulation machines.
The Ballot Tabulation Center, Signature Verification, and Early Ballot Processing are activities that occur at the Maricopa County Elections Department that may be observed by the political party representatives. 
Track Your Ballot. Text "JOIN" to 628-683
Every single mailed ballot is tracked upon delivery and receipt with an intelligent mail barcode so voters know it was counted. Track your ballot by texting "JOIN" to 628-683 or online at BeBallotReady.Vote.