MCLP 2020 Organizing Meeting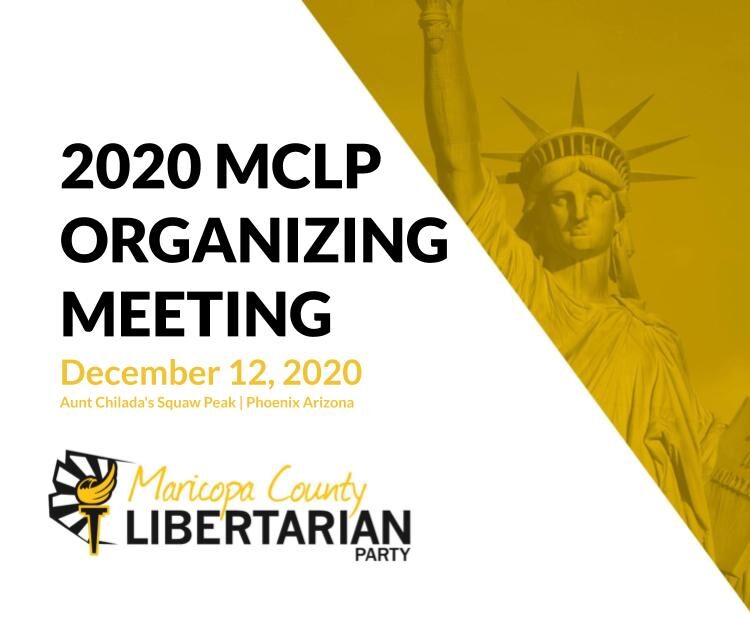 2020 has been a year of formidable challenges to all.  The good news is that your voices were heard, and seven thousand more of our neighbors registered Libertarian this election cycle!
But, as always, we still have work to do.  Every other year in December, MCLP holds an Organizing Meeting (outlined in A.R.S. § 16-824) to elect a slate of officers to guide the direction of the party for the next two years, including Chair, 1st and 2nd Vice Chairs, Treasurer, and Secretary, along with election of MCLP's representatives to the AZLP State Committee.
This year, we will hold that meeting on Saturday, December 12, 2020, from 12:00 p.m. to 3:00 p.m at Aunt Chilada's Restaurant, 7330 N. Dreamy Draw Dr., Phoenix, AZ.  In addition to elections, business slated for this meeting includes committee reports and updates to MCLP's Bylaws.
Aunt Chilada's Palm Court Patio is sheltered outdoor environment (heated if necessary); Aunt Chilada's has adopted significant guidelines for operations under Covid precautions which should offer confidence to attendees.  Donation of $20.00 to cover costs of the catered lunch is requested.
Please RSVP not later than Wednesday, December 9, 2020 to emilysgoldbergacp@gmail.com.