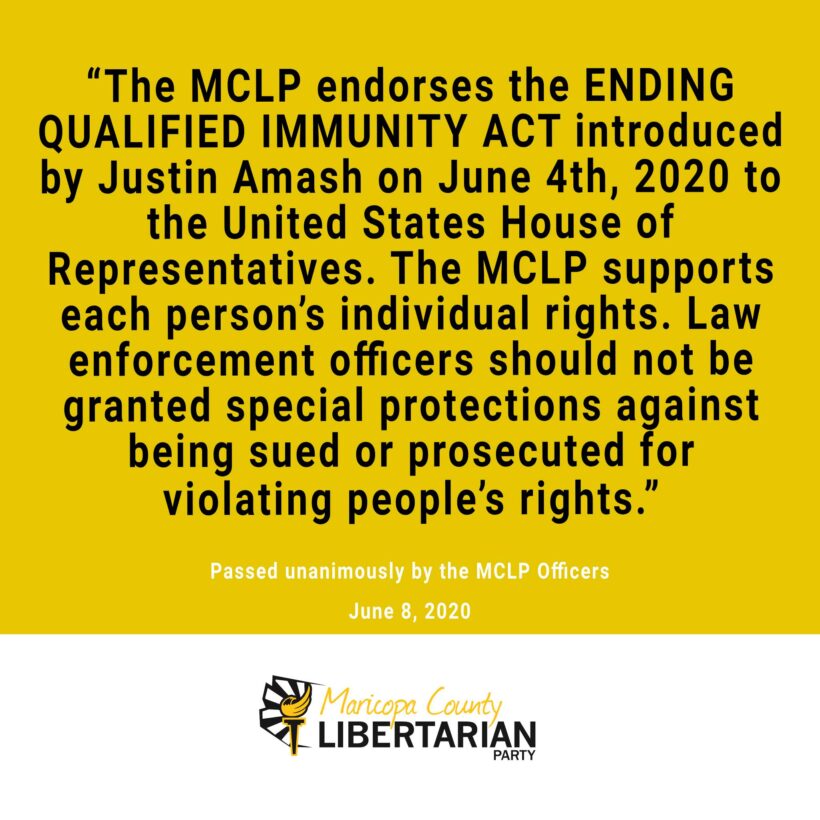 During the Maricopa County Libertarian Party's June business meeting party officers unanimously endorsed H.R.7085, the "Ending Qualified Immunity Act". Which was introduced into the House of Representatives by Libertarian Congressman Justin Amash. 
Qualified immunity is a Supreme Court-created, federal doctrine that affects state and local policy. It's judge-made law. It empowers government at the expense of individual rights.
The MCLP encourages Arizonans to contact their Representative in Congress and urge them to support H.R. 7085 and take the first step needed towards real systemic change. 
Contact the Arizona Congressional Delegation
| | | |
| --- | --- | --- |
| DISTRICT | NAME | DC PHONE NUMBER |
| 1st | Tom O'Halleran (R) | (202) 225-3361 |
| 2nd | Ann Kirkpatrick (D) | (202) 225-2542 |
| 3rd | Raul Grijalva (D) | (202) 225-2435 |
| 4th | Paul A. Gosar (R) | (202) 225-2315 |
| 5th | Andy Biggs (R) | (202) 225-2635 |
| 6th | David Schweikert (R) | (202) 225-2190 |
| 7th | Ruben Gallego (D) | (202) 225-4065 |
| 8th | Debbie Lesko (R) | (202) 225-4576 |
| 9th | Greg Stanton (D) | (202) 225-9888 |